IWSG – Sept 2022 – AllAuthor Interview
Ninja Captain Alex J Cavanaugh created IWSG — because Alex understands we need a place to congregate, insecurity is part of our creative nature, and together we're stronger.
On the first Wednesday of each month, you can write on any subject related to your writing journey or adopt the option of answering the month's question. Either way, you're in safe territory.
If this sounds good to you, sign up here.
IWSG's Twitter handle is @TheIWSG and the hashtag is #IWSG.
Every month, a specific question is offered, which may prompt you to share advice, insight, a personal experience or a story. Include your answer to the question in your IWSG post or let it inspire your post if you struggle with something to say.
Remember, the question is optional!
September 7 question – What genre would be the worst one for you to tackle and why?
The awesome co-hosts for the September 7 posting of the IWSG are Kim Lajevardi, Cathrina Constantine, Natalie Aguirre, Olga Godim, Michelle Wallace, and Louise – Fundy Blue!
Be sure to visit the
Insecure Writer's Support Group Website!
Writing erotica would be so far out of my comfort zone that I'd rather go to the dentist and have all my teeth pulled. Please know that I'm not judging anyone who writes in that genre, but I can't do it. Nor can I read it or watch it. I can't write rape scenes either, or any scene where a child is murdered or an animal is beaten.
I say this yet I wrote a scene in the opening three chapters of Broken But Not Dead where Brendell Meshango is the victim of a home invasion. Its realism scared me so much that I pulled the scene, only to realize its absence left a huge hole in the plot. My editor and later my publisher assured me readers would not be disturbed because they expect Thrillers to be tense and frightening. And Brendell wasn't sexually assaulted; it was a psychological thriller. It's my own fault that I can't separate myself from my characters. I experienced Brendell's fear and scared myself.
In my manuscript Shattered, a dog is hit and killed. Although you don't see it happen, it's talked about a lot. I can't show an animal or a child being killed but I can stretch the limits of my creative license and imply that bad stuff happens behind the scenes. I just can't experience it. I had to leave the theatre before the wolf in Dancing With Wolves was killed. And as a child, I would go outside if Lassie was lost and trying to get home. Even today I can't watch veterinarian shows because an animal might die.
In my latest novel Kiss of the Assassin, there's a firefight scene in Vietnam where multiple soldiers are killed.
I know, I am an enigma…
Shattered is finished and has been set aside so I can concentrate on landscaping. I'm nursing the lawn, taking care to empty the grey water holding tanks onto the lawn, and filling the patches with lawn seed. I'm also emptying the c-cans and doing all the other stuff related to living. The work that needed to be done on our raw land was daunting but gratifying. Time sped past. Soon we'll leave for Bucerias (November) and I'll resume writing.
The most interesting thing to happen to me since April (besides moving into our RV) has been downsizing and adopting a minimalist lifestyle. It's a process that is bittersweet. I've decluttered 90% of our stuff. There are moments when I feel sad, but mostly I feel as if I've been freed from all our "stuff". I've learned to let the tears flow while donating most of my mother's things.
What I'm not able to sell or donate, I'm storing away. Hopefully, one day what's left will matter to someone in the family. If it doesn't, it won't matter. I won't be here. Meanwhile, I'm embracing this minimalist lifestyle because I'm sparing the environment from my overspending, I'm decluttering every single bit of space in our home, and I'm letting my eyes relax while they take in the spaciousness around us.
I'm including some self-promotion below if you have time. Mady Joshi interviewed me recently from AllAuthors. I enjoyed his questions. They reminded me that I've had a good life. I just wish it wasn't going by so fast.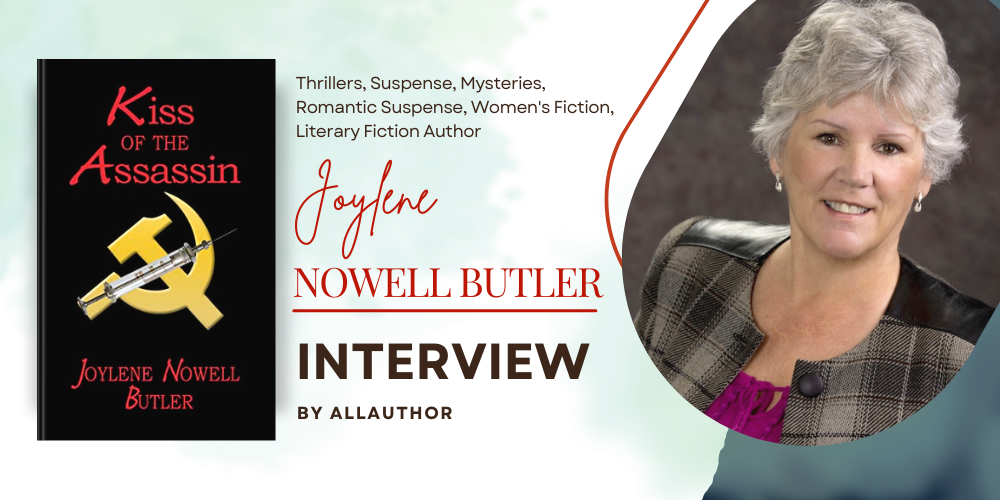 An award-winning author, Joylene Nowell Butler began her first novel in 1984 to honor her father's memory. She grew up on a farm in Maple Ridge B.C., Canada, a farm surrounded by maple trees. She has always felt extremely fulfilled while writing. Her first novel, Dead Witness became a finalist in the 2012 Global eBook Awards. Read full interview…